2022 CRRES Undergraduate Research Program Symposium
Friday, April 22, 2022
1:00pm to 3:00pm
Bridgwaters Lounge
Neal-Marshall Black Culture Center
Format
Stop by to hear from this year's cohort of Undergraduate Researchers! Every year, students in the Undergraduate Research Program work with a faculty mentor to gain hands-on research experience. Many students join faculty research projects, while others conduct an independent study with support from their mentor. Come celebrate their work and learn about research they've conducted throughout the year in a symposium poster session! Light refreshments will be provided.
Presenters and Research Topics
Rebekah Amaya, "Remembering the Racial Violence of American Capitalism: The Destruction of Black Wall Street, 100 Years Later"
Maria Jaimes, "Healthcare Utilization among Unhoused People"
Ann Kovoor, "Coverage of Anti-Asian Hate Crimes in Ethnic Media: A Study of Chinese American Media across 10 U.S. Metropolitian Areas"
Mofe Koya, "

The Legacy and the Future of Gwendolyn Brooks

"
Bella Melrose, "

The Implication of the Rapid Expansion of Politically Polarized Media - Tracking the Trend of Prejudice and Civil Rights Voting Patterns

"
Kemal Perdana, "

Gender/Racial Bias in Software Engineering Hiring: The Role of Diversity Demand across Job Levels

"
Luke Swain, "Picturing Diaspora: (re)Framing South Asian Youth Identity and Culture in the Midwestern U.S."
Christina Yang, "

An Origin Story: The Implications of the Page Act of 1875 on Asian American Women and Reproductive Justice in Indiana

"
Promotional Materials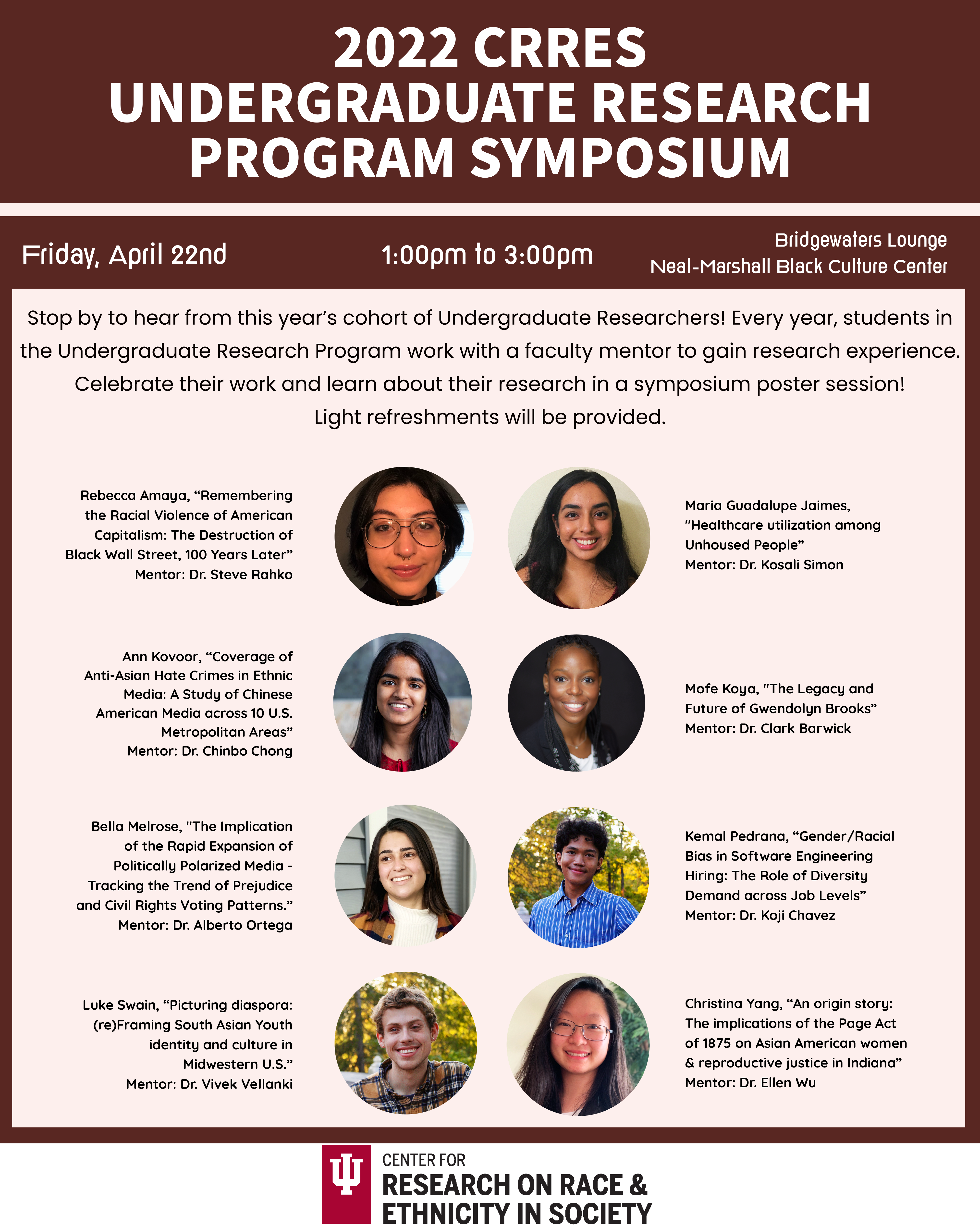 Celebrating Scholarship across Campus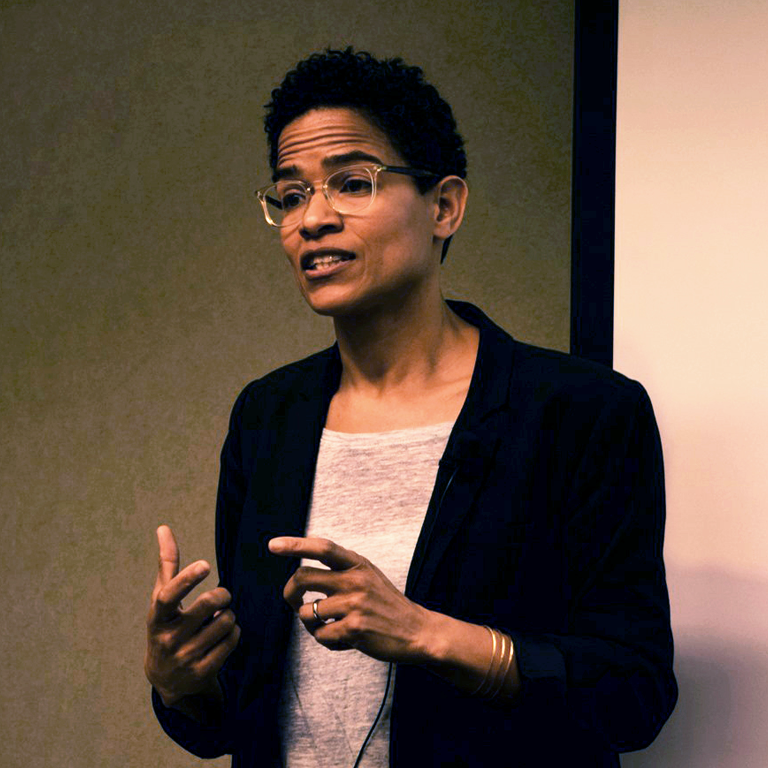 The CRRES Research Symposium brings together students across campus who are conducing and have interests in research on race and ethnicity. Mainstays of the event include a keynote address from a visiting scholar, a workshop with the keynote speaker, and graduate student panels. In 2019, CRRES integrated its Undergraduate Research Program (URP) poster sessions into the Symposium, bringing a wider audience to both events.
Topics covered by symposium presenters have covered a wide scope, including research on education, health, identity, resistance, sound, and police encounters. The number of schools and departments represented each year have only grown and has encompassed African American and African Diaspora Studies, Comparative Literature, Criminal Justice, Education, English, Folklore and Musicology, History, Media, Political Science, Sociology, and Spanish and Portuguese.
Center for Research on Race and Ethnicity in Society
Schuessler Institute for Social Research
1022 E. 3rd St., Room 209,
Bloomington, IN 47405
812-855-8016
Office Hours: Monday - Friday: 10:00 am – 2:00 pm