Co-Sponsored Events
Find information on events across campus co-sponsored by the Center for Research on Race and Ethnicity in Society (CRRES).
Caribbean Reparations for Chattel Slavery and International (Human Rights) Law
A Talk by Dr. Ramona Biholar
Senior Lecturer, Faculty of Law
The University of the West Indies, Mona Campus, Jamaica
Friday April 28, 2023, 3:30-4:45 PM
Karl F. Schuessler Institute, 1022 E. 3rd Street
Stryker Seminar Room (SISR 100)
In this presentation, Dr. Ramona Biholar critiques international law generally and international human rights law specifically through the lens of Caribbean calls for reparations for chattel slavery. The talk focuses on the limitations and the possibilities of these fields of law—whose practitioners typically claim to value inclusiveness—in addressing the issue. Seeking to find a footing in international law, and specifically in international human rights law, Caribbean activists calling for reparations have been relegated to the 'periphery' despite the Caribbean's birth within a context of the profound historical injustices of colonialism and slavery. Drawing on Third World Approaches to International Law (TWAIL) as well as on the concepts of backward-looking and forward-looking responsibility, Dr. Biholar argues that the inability of international legal systems to respond to historical injustice reflects the ways in which the colonial imagination, constructed on the compass of exclusion, remains at the foundation of international (human rights) law and of postcolonial societies today.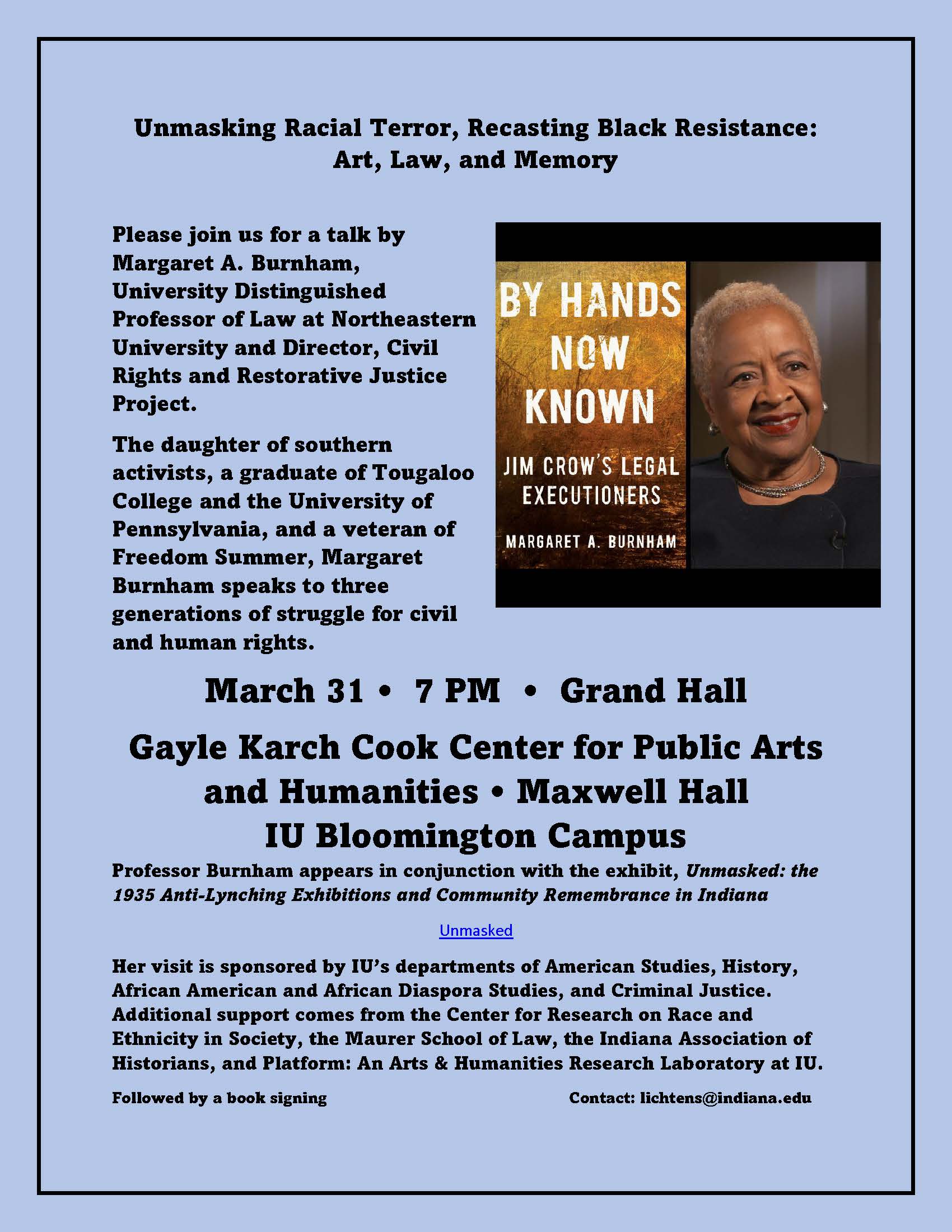 Unmasking Racial Terror, Recasting Black Resistance: Art, Law, and Memory
Friday, March 31, 2023
7:00pm, Grand Hall
Gayle Karch Cook Center for Public Arts and Humanities, Maxwell Hall
Please join the Department of American Studies for a talk by Margaret A. Burnham, University Distinguished Professor of Law at Northeastern University and Director, Civil Rights and Restorative Justice Project.
The daughter of southern activists, a graduate of Tougaloo College and the University of Pennsylvania, and a veteran of Freedom Summer, Margaret Burnham speaks to three generations of struggle for civil and human rights.
Riley Taitingfong
April 27-29, 2023
This talk examines widespread proposals to implement novel genetic engineering technologies known as gene drives on islands, and the challenges of adopting community engagement activities to facilitate local and Indigenous determination of the use of those technologies. This examination is driven by an interest in the meaning-making processes that undergird scientific imaginaries about islands and Indigenous knowledge, and a desire to identify opportunities to better align scientific practice to the interests of Indigenous Pacific Islanders on whose lands these technologies may one day be deployed. I use interdisciplinary methodology (informed by Pacific Studies, Feminist Science Studies, and Indigenous STS) to analyze the scientific literature prescribing that gene drives be tested on islands to ensure their"safe" development, and draw on ethnographic methods to analyze the emergent community and stakeholder engagement practices on two islands where gene drive research is underway. My analysis is rooted in my standpoint as a diasporic CHamoru (Indigenous people of Guåhan/Guam) woman, and my everyday experiences as a researcher navigating scholarly activities and deliberation about gene drive technologies.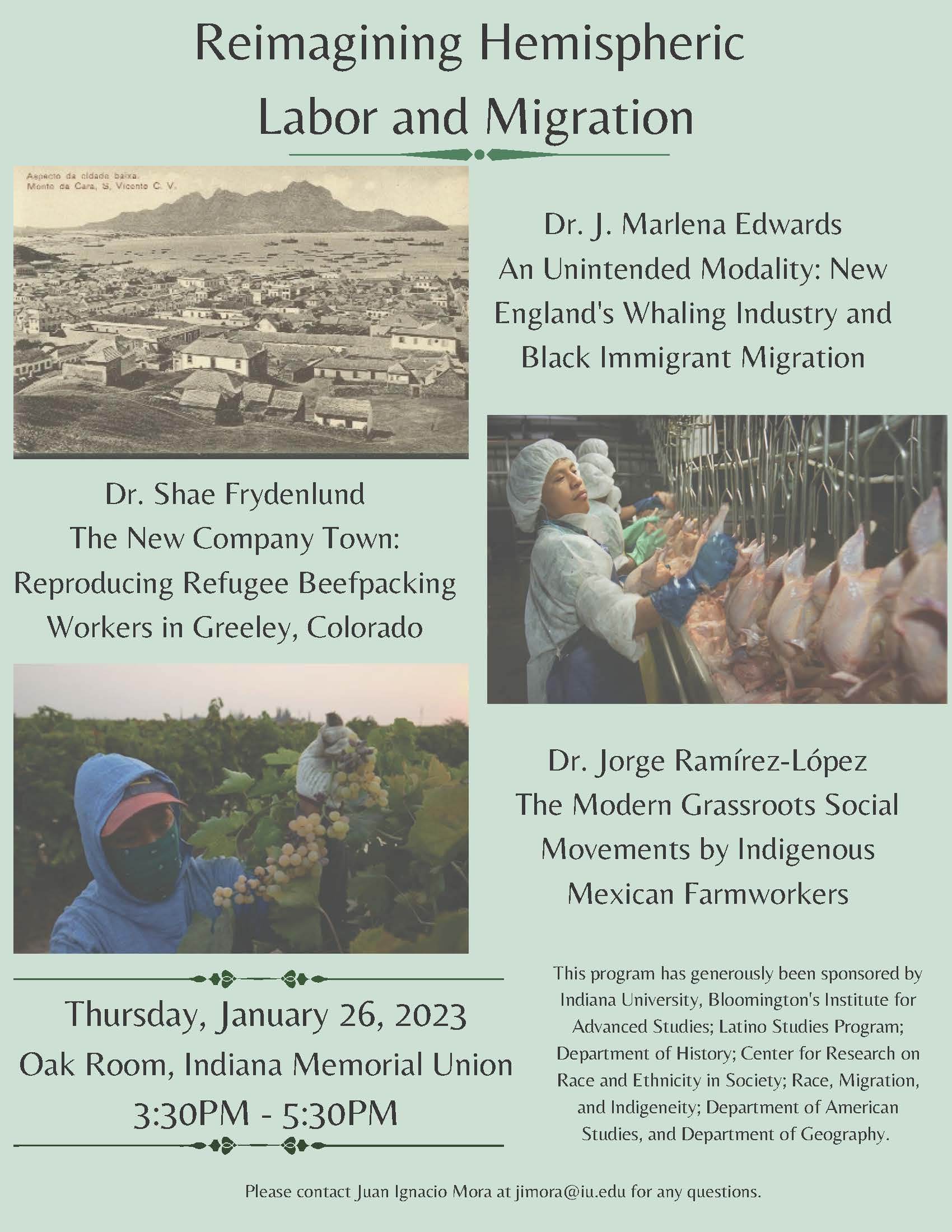 Reimagining Hemispheric Labor and Migration
Thursday, January 26, 2023
3:30-5:30pm, Oak Room, IMU
This is a symposium of emerging scholars who are working on projects that are at the intersections of migration and labor. The three speakers visiting Indiana University, Bloomington for this event are J. Marlena Edwards, Shae Frydenlund, and Jorge Ramírez-López.
Each speaker will have around 30 minutes for their individual talks, followed by a Q&A. This event has been generously supported by IUB's Institute for Advanced Study; Latino Studies Program; Center for Research on Race and Ethnicity in Society; Department of History; Race, Migration, and Indigeneity; Department of American Studies, and Department of Geography.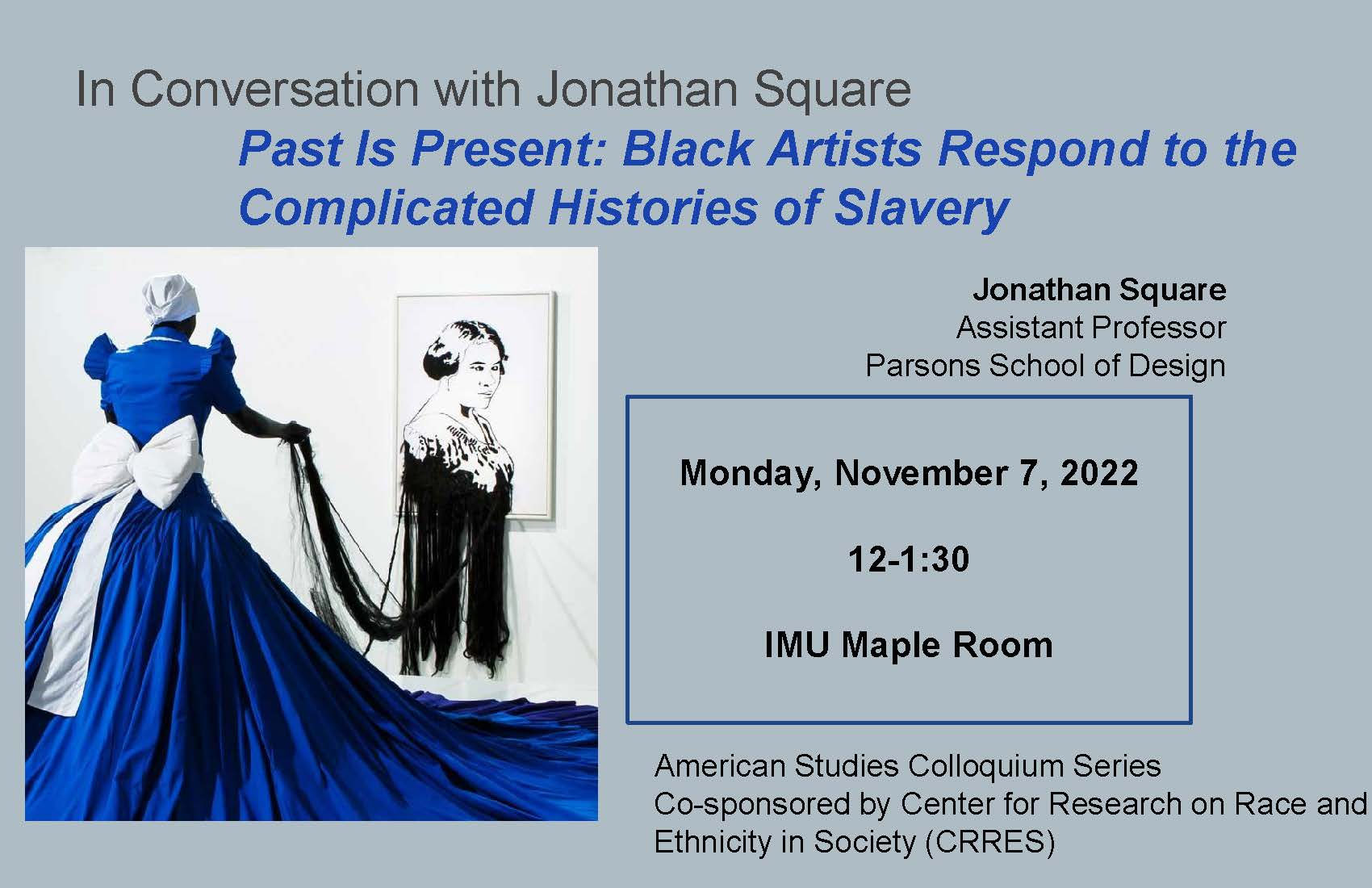 In Conversation with Jonathan Square
Past Is Present: Black Artists Respond to the Complicated Histories of Slavery
American Studies Colloquium Series
Monday, November 7, 2022
12-1:30pm
IMU Maple Room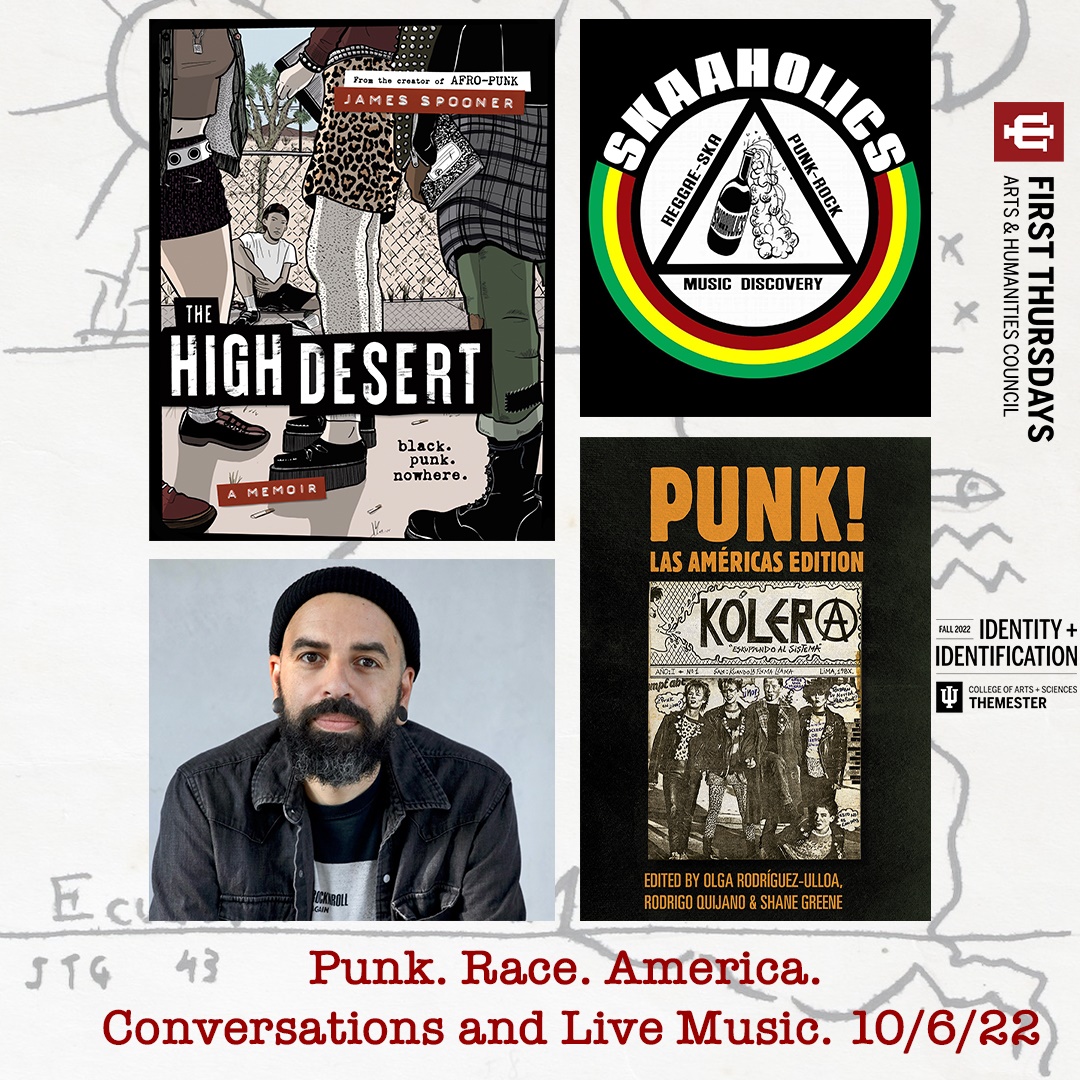 In Conversation 6:30pm-8:00pm
James Spooner & Olga Rodríguez-Ullo
Shane Greene & Juan Mora
Second Stage, First Thursdays Festival
Live Music 9:30pm
Performances by Skaaholics and Cuervo Sucio
The Bishop, 123 S. Walnut St. 
Daniel Nemser
"Imperial Logistics, Fugitive Practice, and Comparative Racialization"
Presented by IU Renaissance Studies Program
Friday, October 21, 2022; 3-5pm
Gayle Karch Cook Center Grand Hall, Maxwell Hall
Center for Research on Race and Ethnicity in Society
Schuessler Institute for Social Research
1022 E. 3rd St., Room 209,
Bloomington, IN 47405
812-855-8016
Office Hours: Monday - Friday: 10:00 am – 2:00 pm